Venues of MusicFest Perugia
The famed Basilica di San Pietro in Perugia carries over 1,000 years of history with it. It houses one of the most important collections of art in Umbria, featuring paintings by Vassilacchi, Vasari, Perugino, Caravaggio and several others. As an outstanding concert venue, the Basilica has not gone unnoticed. Karajan conducted and recorded several concerts there, remarking on the strength of the acoustics. Maria Callas has also performed in this 'very beautiful church'.
The fresco-laden Sala dei Notari in Palazzo dei Priori served as a Town Council Hall for several centuries, it is now a popular venue for classical music, having featured Michel-Angelo Benedetti, Pollini, Uto Ugghi and other great soloists. Ideally located in Piazza IV Novembre, it is easily reached from anywhere in the city's center.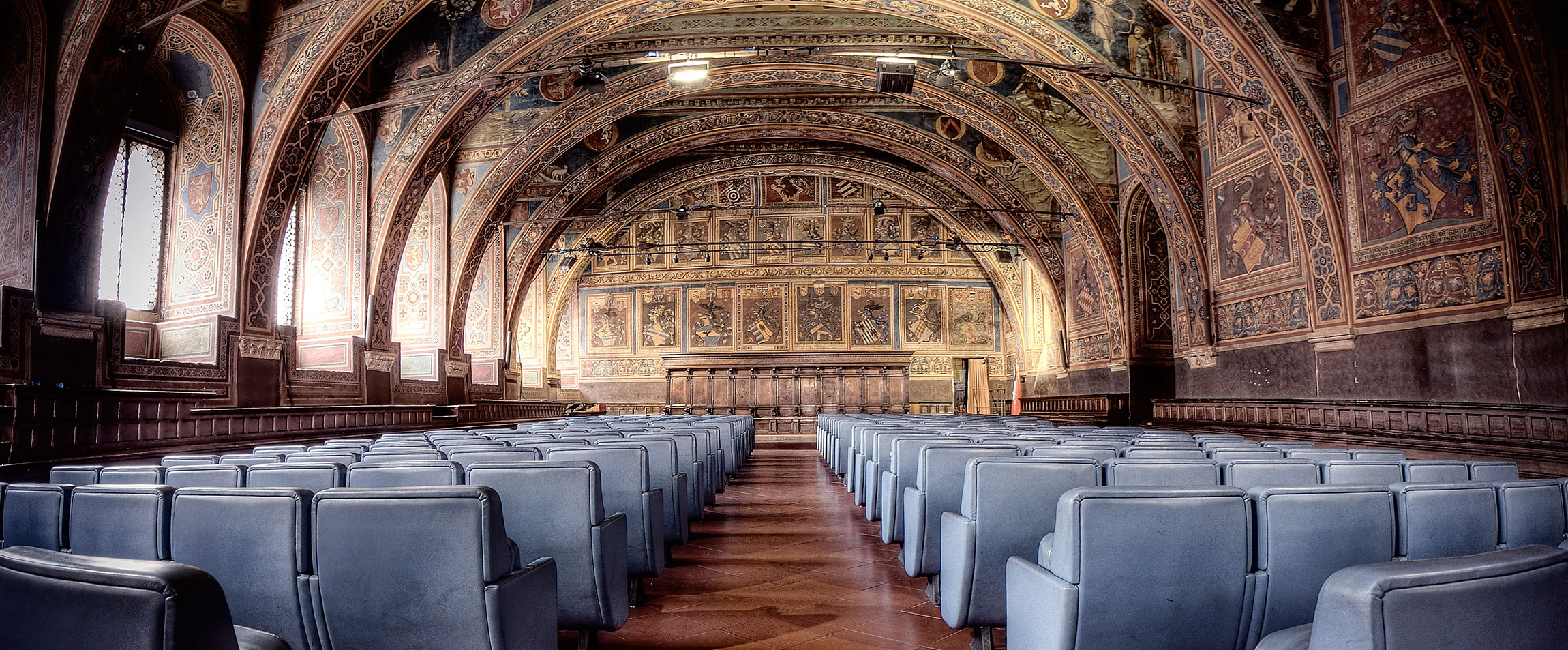 The jewel teatro of Perugia inaugurated in 1781 and named after Perugia composer Francesco Morlacchi. Hosted all major orchestras of the world. Music Fest Perugia had its debut there July 19, 2013 with "Una Serata Italiana.
The Theatre of Pavone was built between 1718 and 1723 by a group of nobles from Perugia who felt the need for a more suitable and wide place for shows than those already present in the city. In 1772 the painter Francesco Appiani of Ancona painted on the curtain "Turrena in place to admire the triumph of the goddess Giunone," which in ancient times was consecrated to the gods as animal symbol the pavone (peacock) , which then gave its name to the theatre Pavone witnessed some of the greatest singers and actors in the history of Italian artistic events including Eleonora Duse, Ermete Novelli, Ermete Zacconi, Paola Borboni and many others.
Oratorio di Santa Cecilia
Pregevole teatrino barocco con pianta centrale a croce greca, due ordini di coretti e copertura a cupola, realizzato su disegno di Pietro Baglioni (1687-90). Annesso a san Filippo Neri dalla Congregazione dei Filippini, di cui all'attiguo complesso, fu successivamente affidato all'Accademia degli Unisoni. Dopo decenni di degrado e abbandono è stato restaurato e riaperto al pubblico nel 2001. Possiede un'ottima acustica. Lungo via Fratti case e torri medievali.
La Chiesa di Santo Spirito locata in Piazza Perroni ha una lunga e famosissima storia. Dagli anni 60 e' guidata dal gentile ed amichevole Don Saulo che ha permesso al Music Fest Perugia di fare i concerti di musica classica.